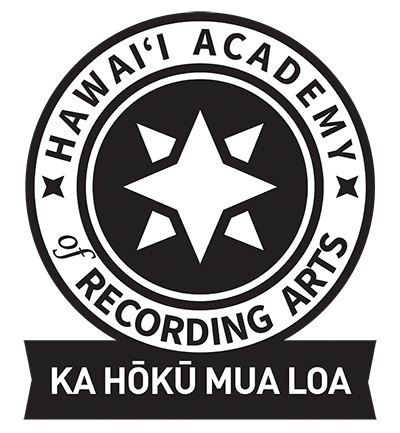 OUR MISSION
HARA's mission is to preserve, protect, promote, foster and advance Hawai'i's recording industry and the music of Hawai'i.
OUR VISION
Create a thriving music community by honoring the past, nurturing the present, and building the future.
The Hawai'i Academy of Recording Arts (HARA) and Nā Hōkū Hanohano Awards trace their origins to 1978 and KCCN-AM Radio, then the world's only all-Hawaiian music radio station.
The Hawai'i Academy of Recording Arts also directs programs to promote quality and growth in the recording and music industries in Hawai'i. In conjunction with Tropical Music, Inc., Hawai'i state universities and colleges, the Hawai'i Academy of Recording Arts awards scholarships annually.
The Academy has conducted seminars and panel sessions on the music and recording business with the Recording Academy and the Hawai'i Island Economic Development Board. In conjunction with the State Department of Business, Economic Development and Tourism (DBEDT) and Hawai'i book, fashion and food groups, it participates in events and projects promoting Hawai'i product.
A separate ceremony for the prestigious Lifetime Achievement Awards honors Hawai'i recording industry pioneers and veterans, who are also acknowledged during the Nā Hōkū Hanohano Awards live broadcast.
Board of Governors
A voluntary 13 member-elected Board governs the Hawai'i Academy of Reocording Arts, a non-profit organization founded in 1982 to promote Hawai'i's recording industry and the music of Hawai'i.
President
Amy Hānaiali'i Gilliom
Vice President
Julian Ako

Secretary
Frank Ka'iu Damas
Treasurer
Desi Koanui-Souza
Governors
Brandon Apeles Michelle Aquino
Kalenaku Delima
Dane Fujiwara
Brickwood Galuteria
Ka'imi Hanano'eau Micah Kamohoaliʻi
Zachary Lum Keoni Souza
Immediate Past President
Pali Ka'aihue
UPLOAD YOUR PICS
SHARE YOUR PHOTOS
HARA encourages members to upload or mail in your photos (do not send originals, we will not return them) to include in the HARA Photo Archive and web site.
UPLOAD YOUR PICS